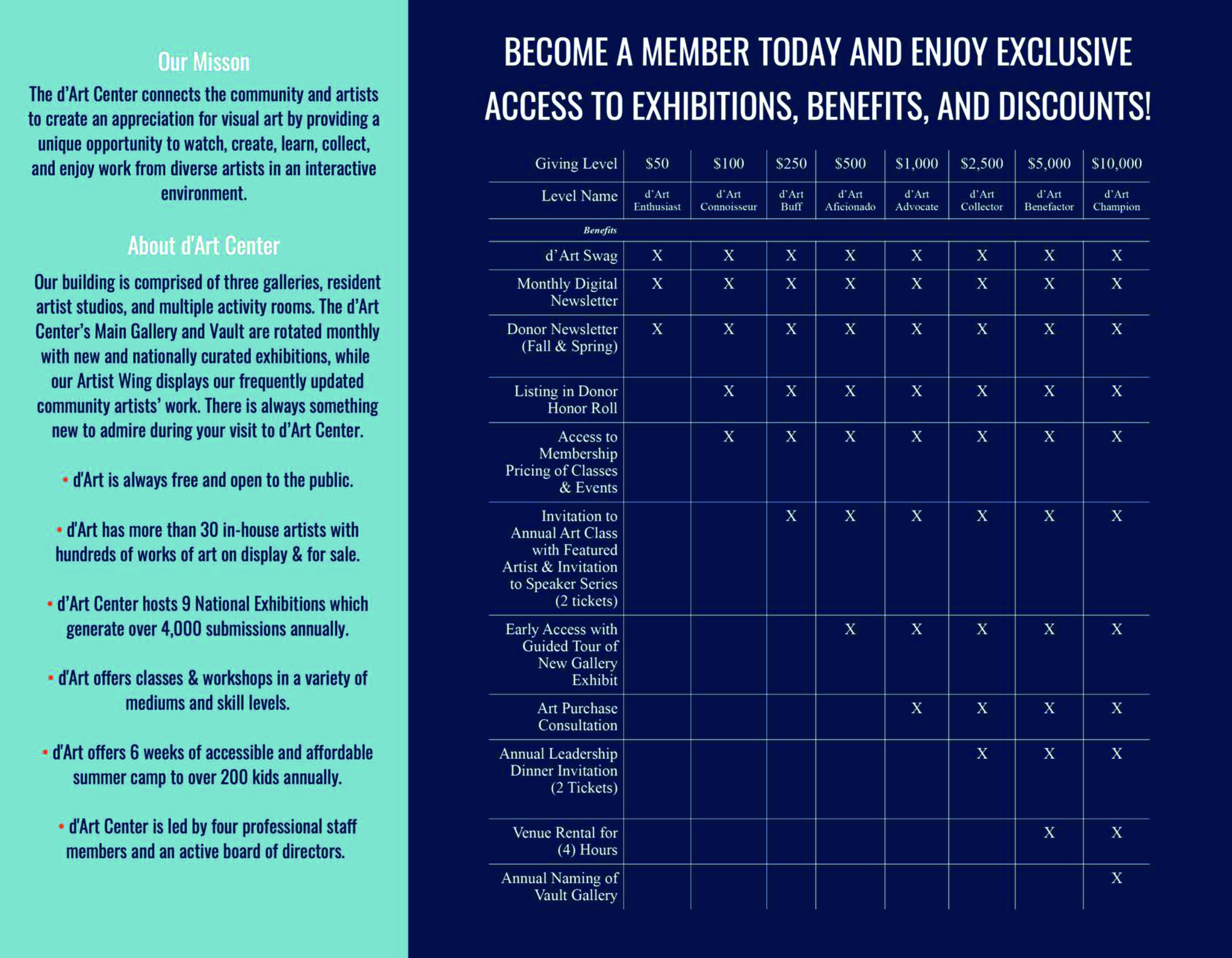 DOWNLOAD THE MEMBERSHIP BROCHURE:
Thank you to our sponsors
The generosity of private, corporate, and foundation gifts funds the d'Art Center.  Private investments provide 60% of the organization's budget.
$2,499 - $1,000
Maureen Callahan
Scott Campbell
Cheryl Cauthen Bond
Curtis Family Foundation
Kenneth Fulp. Jr.
David Fulp
Eileen and Stephen Gwaltney
Thomas Helm Jones, III
Tricia Hudson
Lin Ford Jones
Kelly Lanza
Elizabeth Lloyd
Krista McAninley
Bryant McGann
John & Emily Miles
John & LeAnn Padgett
Donna Scassera
Roderic Taylor
VIA Designs
Randy Webb
Wayne Wilbanks
Beth Williams
United Way of South Hampton Roads
$1,000 & Under
Freddy & Linda Blair
Ronda Baucom
Nancy Topping Bazin
Anthony Bevilacqua
Freddy & Linda Blair
Robert Carter
Tessa Duquette
Susan Einhorn
Phyllis Fedele
B. Kay Gerehart
Sarah Golden
Brittany Hanson Tilley
Linda Hooks
Marsha Hudgins
Peggy Hunsucker
Lindsay Hunsucker
A. Russell & Pamela Kirk
Adelgunde Kohler
Keri Markiewicz
Marvin Mathes/NOS
Rob McFarland
Jeff Miller/Miller's Energy
Christopher Moran
Anne Odell and Susan Pilato Kieran Poulos
Karen Priest
Sherri Pritchard
Kathy Puglise
Lynn Ruehlmann
James Schmidt
Judith Schultz
Jean Shepard
Dustin Shores
Sharon Sutton
Jerry & Kay Volman
Larry & Martha Lynn Volman
Whitney Weireter
Pamela West
Mr. & Mrs. Blair Wimbush
W. Carter Winn
Wendall and Patricia Winn, Jr.
MAKE A GIFT
We are always grateful for your support!
EVERY GIFT IS IMPORTANT
d'Art Center is supported by private donations, events, and workshops, and the City of Norfolk supports 3% of our budget.
ENRICHING OUR COMMUNITY
We believe that art can enrich the lives of everyone in our community of every age and background. With an emphasis on education, our mission is to provide opportunities to experience art in multi-faceted ways.
GALLERIES
Our building comprises three galleries, resident artist studios, and multiple activity rooms. The d'Art Center's Main Gallery and Vault are rotated monthly with new and nationally curated exhibitions, while our Artist Wing displays our frequently updated community artists' work. There is always something new to admire during your visit to d'Art Center.
BECOME A VOLUNTEER
Both general interest and specialized volunteering opportunities are available, including gallery docent, exhibition installation, classroom assist, social media assistant, event staff, facilities maintenance, data entry, mailing help, and office assistant.
If you are interested in volunteering, please fill out this application and send it to [email protected] titled "Volunteer Application"
SHOP AT THE d'ART BOUTIQUE
We opened The d'Art Center Boutique & Gift Shop in 2022.
The entrance to the shop can be found in our Main Gallery.
d'ART SHOP CARRIES:
8 Oak Lane
Art & Fable Puzzle Company
Bamboo Trading Company
Bezrat
Boston International
Brooks Works Studio
Calypso Cards
Classic Touch Decor, Inc.
CGB Giftware
Chart Metalworks
d'Art Merchandise by Jen Sterling
Dandarah
Emily Lex Studio
Green Daffodil Bath & Body
Hooties Candles and Things
Independent Publishers Group
Jen Sterling Art
Julia Knight Inc.
Karen Adams Designs
Laura Park Designs
Lemondaisy Design
Matt Jacob Glass
Mazzega Art & Design
Modgy
Oily Blends
Pangea Jewelry & Accessories
Peking Handicraft
RockFlowerPaper
RosanneBeck Collections
Shiraleah
The Cocktail Box
The Enchanted Home
The Paint Anywhere Kit
Zoey's Attic
*some items are seasonal and not currently available
COLLECT YOUR OWN ORIGINAL ART
Items from our current national juried show and solo show in The Vault are available for sale. To shop exhibitions online, use our archive.
For more information, price inquiries, or additional photos, please get in touch with the gallery manager at [email protected].
Purchases are available for pick up at The Center, OR purchases can be delivered within a 30-mile radius of The Center for an additional $25 delivery fee. Purchases can be shipped upon inquiry. Purchases are available after the exhibition ends. 
Please visit The Center to purchase art from our Resident and Associate Artists.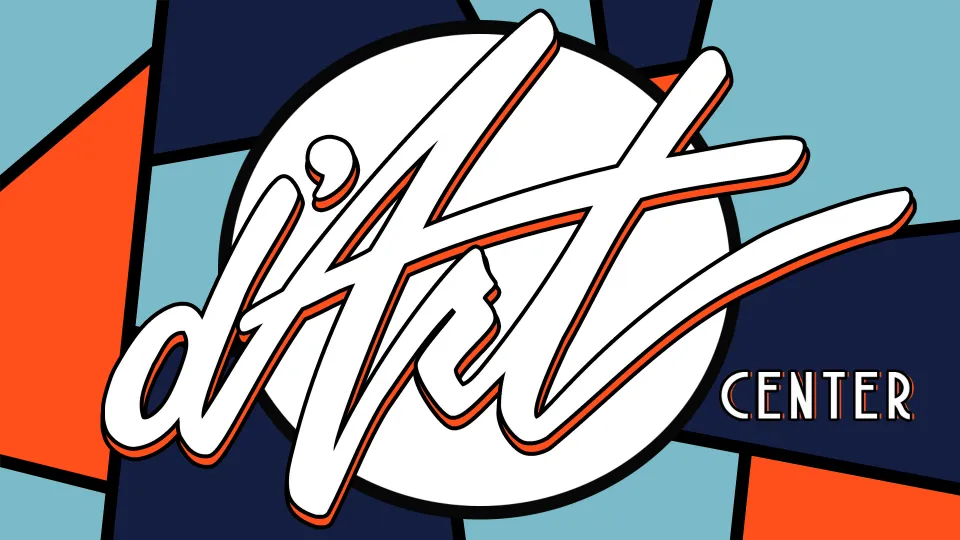 740 Boush Street
Norfolk, VA 23510
(757) 625-4211